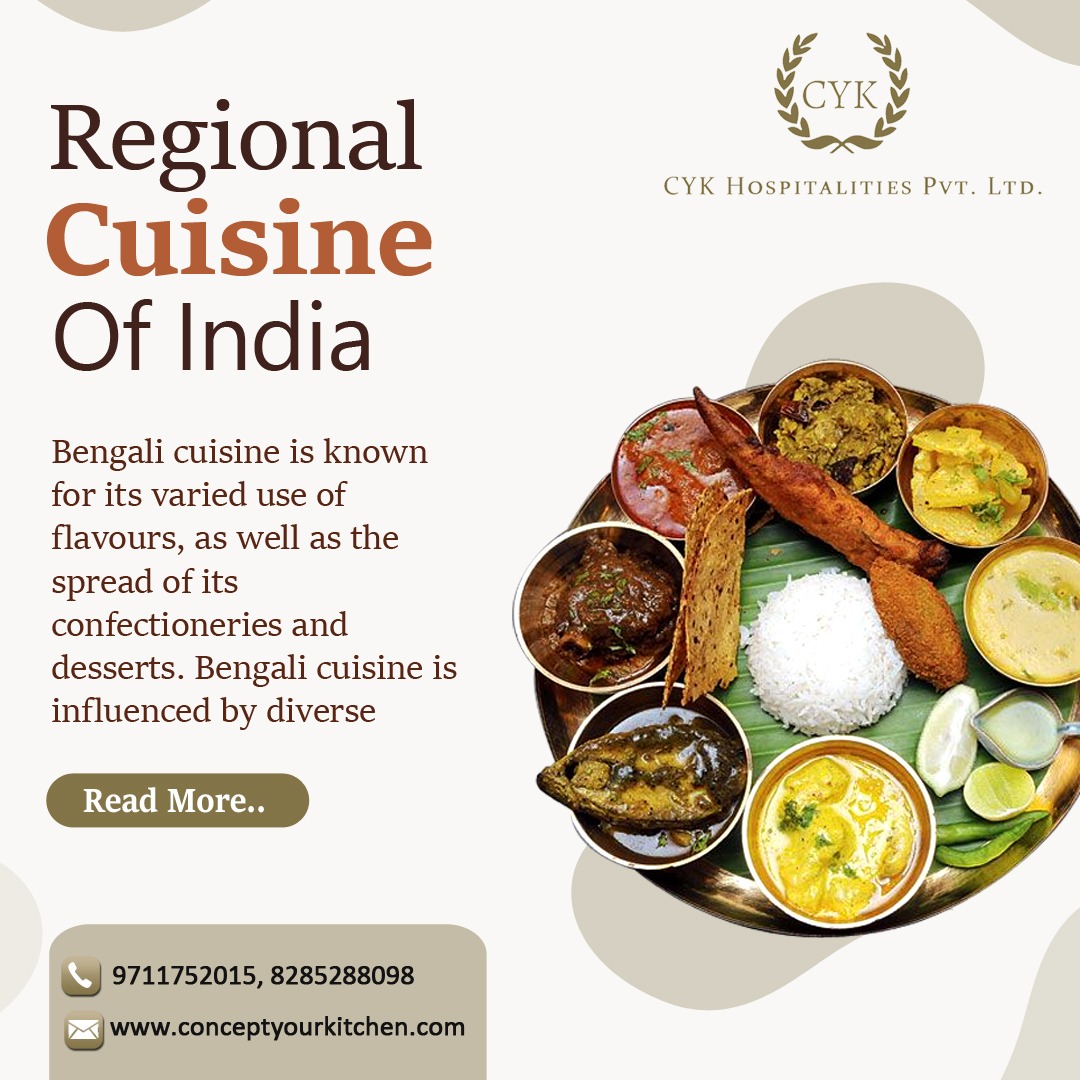 07 Jul

Regional Cuisines of India

Bengali cuisine is known for its varied use of flavours, as well as the spread of its confectioneries and desserts.

.

Bengali cuisine is influenced by diverse cultures and at the same time a lot of historical events evolved the foundation of preparing food. In Bangladesh, this food has become common fare for the population while in West Bengal, they have remained the food of professional chefs.

.

Muslims conquered Bengal around the mid-thirteenth century, bringing with them Islamic culture and cuisine. Islamic culinary influence brought dishes such as biryani, korma and bhuna.

.

Influenced by the widow, they could not use "heating" foods such as shallot and garlic, but use of ginger was allowed. This style found a core place in Bengali curries in general, both vegetarian and non-vegetarian.

.

During the 19th century many Odia cooks migrated to Bengal to work in the households of affluent Bengali families. Such cooks introduced new concepts in Bengali kitchens that brought in subtle but significant changes to Bengali cuisine.

.

The Chinese of Kolkata originally settled into a village called Achipur south of Kolkata in the late 18th century. The Chinese-origin people of Kolkata form a substantial and successful community with a distinct identity. With this identity came Chinese food, over time the influence of this cuisine became widespread throughout the region.

.

Partition of Bengal displaced along religious lines as a result, it led changes in meal-taking, as to adhere to religious restrictions. In West Bengal, the only restriction is beef, which applies only to Hindus.

.

During the colonial period, many Western food shops were established in Kolkata, making puff pastries, channa, chocolate, and chips especially popular. Dishes such as chop, gravy cutlet, sponge rasogolla, and ledikeni.

.