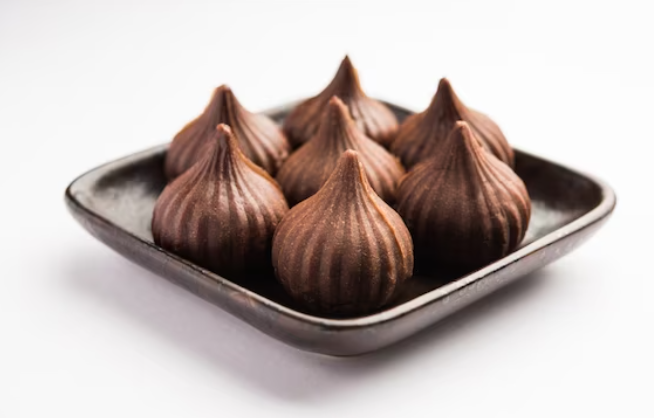 19 Sep

Recipe for Millet Modak

Millet Modak is a delightful and nutritious twist on the classic Indian sweet traditionally offered during festivals like Ganesh Chaturthi. Made with wholesome millet flour and a luscious jaggery-coconut filling, these modaks offer a healthier indulgence that's perfect for celebrations or as a sweet treat anytime.

Ingredients:
For the Outer Covering:

1 cup millet flour (finger millet or pearl millet)
1/4 cup rice flour
A pinch of salt
1 cup water
1 tablespoon ghee (clarified butter)
For the Sweet Filling:

1 cup jaggery, grated or powdered
1 cup grated coconut
1/2 teaspoon cardamom powder
2 tablespoons ghee
A handful of chopped nuts (cashews, almonds, and pistachios)

Method:
For the Outer Covering:

Begin by heating 1 cup of water in a saucepan. Add a pinch of salt and 1 tablespoon of ghee.
As the water comes to a boil, reduce the heat to low and gradually add millet flour and rice flour while stirring continuously to prevent lumps.
Cook the mixture on low heat for 3-5 minutes until it thickens and forms a pliable dough. Ensure it's not too dry or wet.
Remove the dough from heat, let it cool slightly, and then knead it into a smooth, workable dough.
For the Sweet Filling:

In a separate pan, heat 2 tablespoons of ghee.
Add grated coconut and sauté it for 2-3 minutes until it turns lightly golden.
Incorporate grated jaggery and cook, stirring continuously, until the jaggery melts and blends with the coconut (around 5-7 minutes).
Stir in cardamom powder and chopped nuts. Cook for an additional 2 minutes until the filling becomes thick and sticky. Remove from heat and let it cool.
Assembling the Millet Modaks:

Take a small portion of the millet dough and roll it into a ball. Grease your palms with ghee to prevent sticking.
Flatten the dough into a small disc, similar to a puri.
Place a spoonful of the sweet coconut-jaggery filling in the center.
Gently bring the edges of the dough together, shaping it into a modak. Ensure a secure seal.
Repeat with the remaining dough and filling.

Conclusion:
These homemade Millet Modaks offer the perfect blend of tradition and nutrition. With millet's health benefits and the rich, sweet filling, they're a delightful treat for festivals and everyday indulgence. So, embark on a culinary journey, savor these mouthwatering delights, and share the joy of healthier festivities with loved ones.